The Best Party Worthy Fruit Recipes-
fun, delicious & healthy!
Kid's parties should be fun!  So why not serve fun and healthy food to make the party even better?  Here is a collection of fun and healthy fruit recipes.  They all include fruit, are colorful and known kids pleasers.
1.from Cool Parties 4 Kids—mini rice cake with fruit treats.
These fun and easy treats are gluten-free
Ingredients include:
Gluten-Free Mini Rice Cakes
Cream Cheese
Nut-Butter
Honey
Fruit

Strawberries
Blueberries
Raspberries
Bananas
Kiwi
If using raw honey—DO NOT FEED TO CHILDREN UNDER 1 YEAR ID AGE!
Directions:
Let the cream cheese soften.
put 4oz of cream cheese in a bowl.
Add 1/2 cup of nut butter to a bowl
Add 1-2 tbsp of honey (or to taste) to each bowl of cream cheese and nut-butter. Stir in completely.
Prepare the fruit: wash all berries and remove stems from blueberries and strawberries.
Peel and slice the banana
If desired, use fruit/vegetable cutter to cut shapes into the strawberry and banana slices.
Spread the mini rice cakes with either the cream cheese mixture or the nut butter mixture.
Place the fruit on the mini rice cakes in a  decorative manner.
Serve soon after preparation as the rice cakes can absorb the moisture from the cream cheese and nut butter.
This post contains affiliate links. For more information, see my disclosures here.
This is the tool I used to cut the fruit–great for also cutting fun shapes from vegetables.
How to prepare your Kiwi.
2. Apple Monsters from KitchenCents.com
2. Banana Sushi from MyFussyEater.com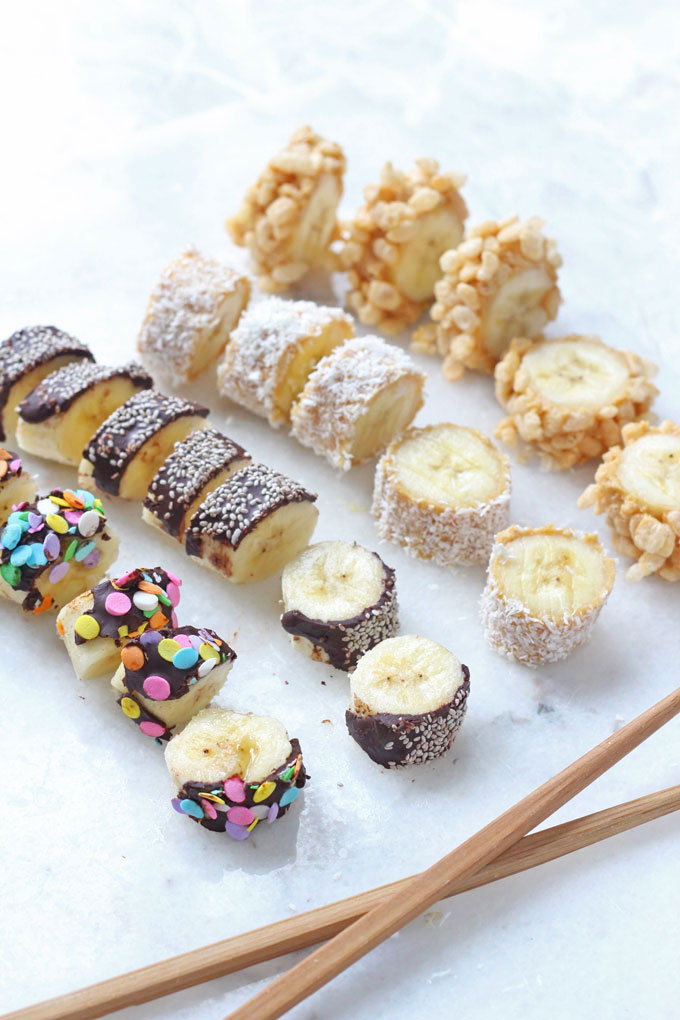 3. The Apple Donuts from ForkandBeans.com offer so much variety.  Even picky eaters will find a favorite!
4. These colorful fruit kabobs from Dinner at the Zoo,  just simply add color and fun to any celebration.  Use regular or Greek Yogurt with rainbow sprinkles to add some for fun and color. The kiwis are cut with small metal cookie cutters for additional interest. That adds a lot.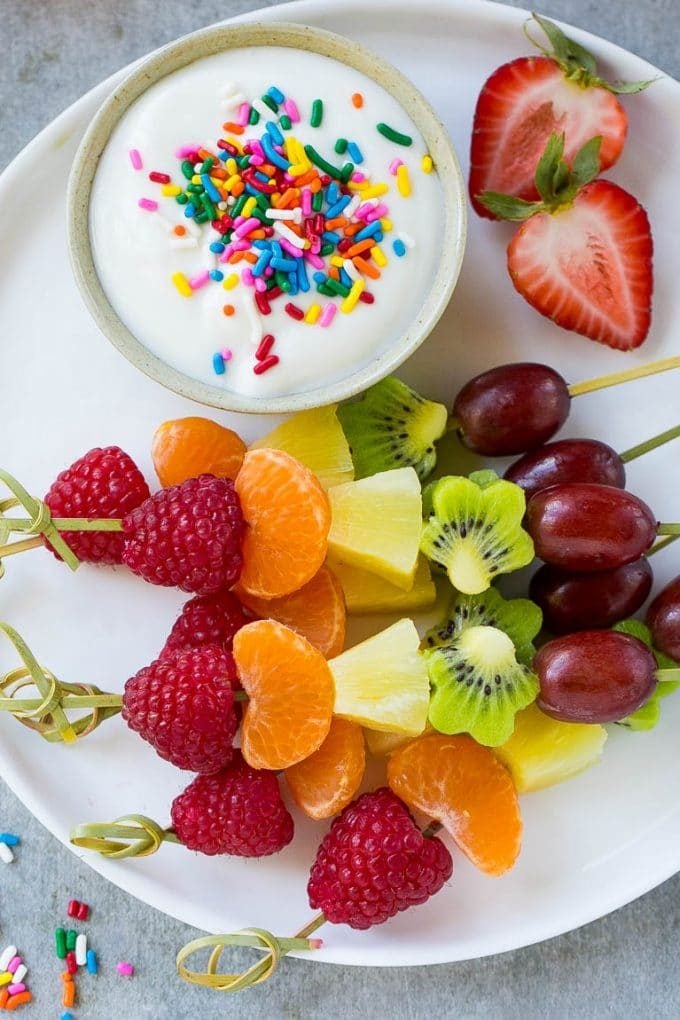 5. I can't wait to try this Strawberry Banana Cheesecake.  Go over to the SlowRoastedItalian.com for this fun one.
6. Banana Splits created from bananas, berries, granola and more…  From Clean FoodCrush.com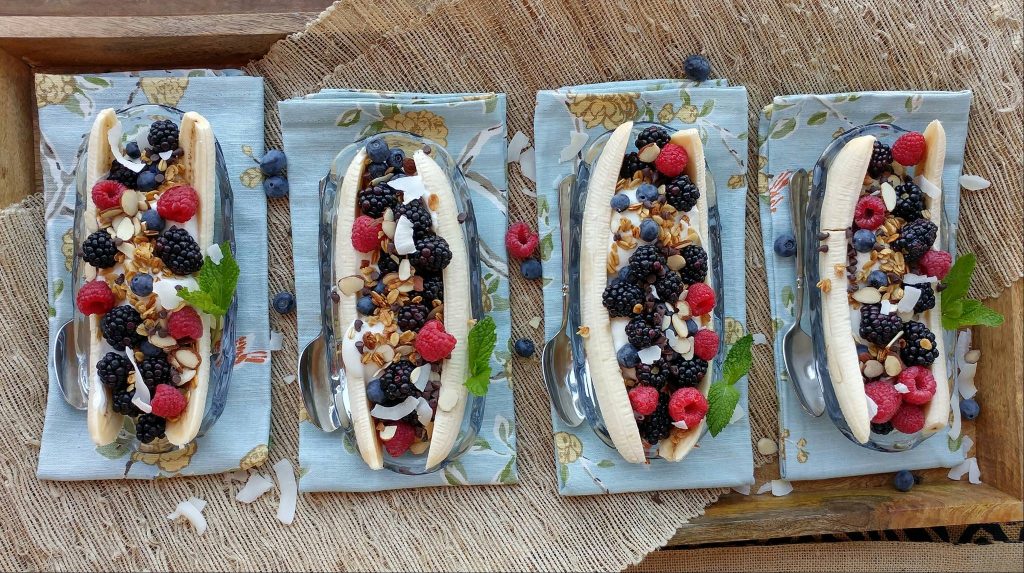 7. This would be a wonderful substitute for a traditional birthday cake.  (hint to my kids-this would make me happy for my next birthday–just a hint.) Substitute a gluten-free cake and enjoy!
Get the recipe at hoosierhomemade.com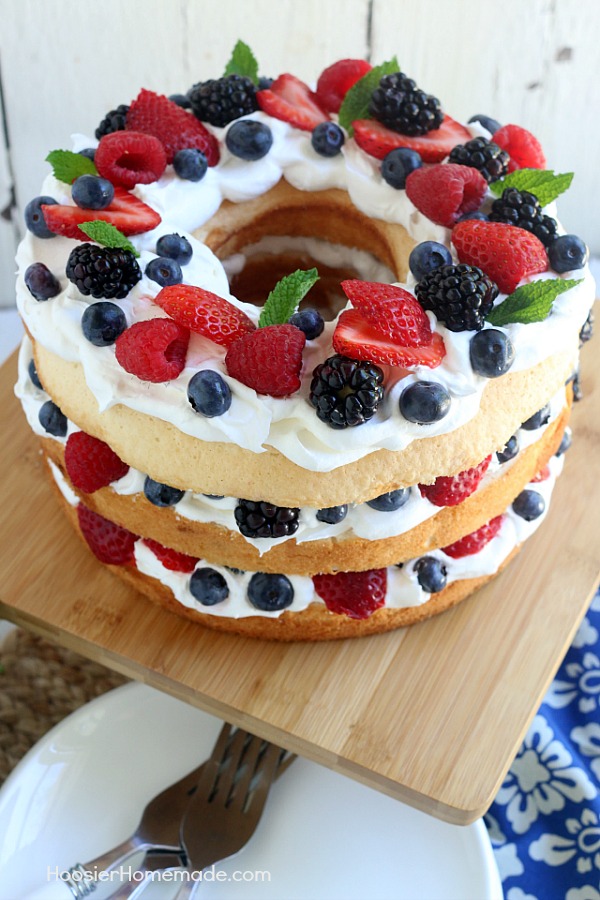 8. From Little FoodJunction.comLittle FoodJunction.com comes a fun fruit caterpillar.  Use with a Picnic Theme or The very Hungry Caterpillar Party for lots of fun.
9. These fun fruit treats are made with nut-free butter so they are allergy-friendly.  I also like the combination of textures–puffed rice teeth, nut-free butter, and fruit.  This fun recipe for  Apple Monsters is featured at Two Healthy Kitchens.
10.Fun Frozen Pineapple Pops from EatsAmazing.co.uk EatsAmazing.co.uk